Significant Gold Mineralization Present in Cores
Aldershot Resources (TSX.V:ALZ / Frankfurt: ASL1.F / US: ALZTF.PK),  reported initial assay results from drilling completed on the Gowganda Gold project located 75 kilometres southwest of Kirkland Lake Ontario.
The results are from the first two, of eleven completed holes for which additional assay results remain pending.
CEO of Aldershot Minerals Jeremy Caddy "Aldershot is pleased with the initial assay results from the first two holes of the program and we are looking forward additional results as they become available over the coming weeks."
Holes TMH-17-022 and TMH-17-023 were drilled to test for a down plunge continuation of stock work veining exposed at surface in the vicinity of the Annie's Ladder showing.
Both holes intersected intervals of strong alteration and elevated gold which is summarized below in Table 1.
Table 1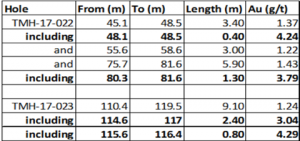 Previous Drill Results – 2017
A 21 hole drill program was previously conducted targeting gold mineralization associated with quartz/carbonate stock work veining occurring in syenite dykes exposed by the trenching.
3 holes at Annie's ladder showing intercepted a series of gold veins and returned multi-meter multi-gram gold intercepts, similar in range of gold values to the channel samples at surface.
2.4 g/t over 7.1 m
4.7 g/t over 3.1 m
82.5 g/tover 0.4 m
1.6 g/t over 11.7 m
About the Gowganda Gold Project
The project is focused on Archean greenstone overlain by Proterozoic sediments of the Cobalt Embayment located south of the Round-Lake Batholith in the south-western part of the prolific Abitibi greenstone belt.  Gold mineralization on the property is in part controlled by the emplacement of syenitic intrusions that are locally altered and mineralized.  High grade, nugget like gold mineralization occurs within quartz veining within the altered syenite.
About Aldershot
Aldershot is engaged in the acquisition and exploration of gold properties. The Company has signed an option and joint venture agreement with Transition Metals for the Gowganda Gold Project as highlighted above. The mission of Aldershot is to find and develop a gold property to create wealth for our shareholders. This is being achieved by identifying quality gold properties and exploring those that have the highest potential for future discoveries, sale or development of existing mineral resources into mineable reserves. Management will sell its properties when it feels value for shareholders has been created and management is able to obtain fair value for the assets.
YouTube Video – Haultain Gold Project  / Gowganda Property – 2017