The US tech sector's cautious decision to impose a hiring freeze amid slowing growth masks an epic recruitment drive in recent years. Expansion during the pandemic has transformed Big Tech. Between the first quarter of 2020 and 2022, Amazon's workforce nearly doubled to 1.6mn. Headcount at Facebook's parent company Meta rose more than 60 per cent to over 77,800. Alphabet's employee base increased by a third.
Giant workforces mean higher fixed costs — a problem when revenue growth falls. They also widen the gap between the biggest companies and the rest of the sector. The sudden expansion of R&D and sales departments will make it more difficult for smaller rivals to catch up.
Consecutive quarters of record market valuations and sales encouraged the increase. That boom has ended. The tech-heavy Nasdaq Composite index has lost more than a quarter of its value so far this year. According to tracking site Layoffs.fyi, tech sector lay-offs exceeded 138,000 in the second quarter of the year.
Fast-growing companies dominate this labour contraction. Coinbase, the listed digital currency exchange, tripled its headcount between the end of 2020 and the start of 2022 to just under 5,000 employees. In June it announced plans to lay off nearly a fifth of its workforce. Tesla more than doubled its full-time employee count, including subsidiary employees, in two years to 99,290 at the end of 2021. Last month boss Elon Musk declared his "super bad feeling" about the economy. Salaried headcount there will drop 10 per cent.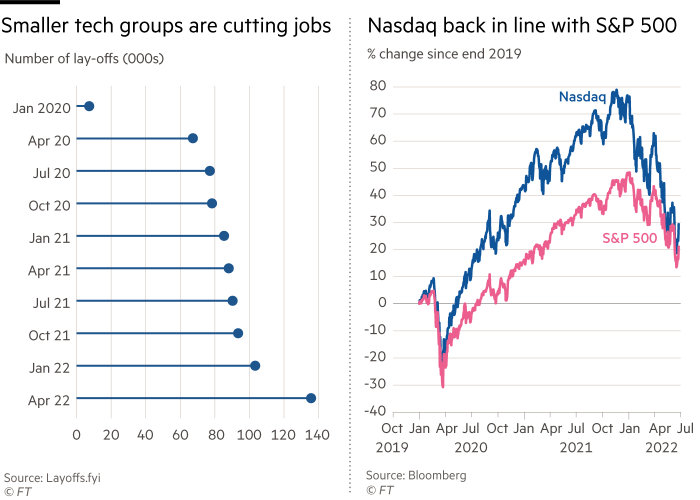 Despite recent efforts, US tech companies remain bloated, claimed one Silicon Valley venture capitalist. "The good big companies are overstaffed by 2x," wrote Marc Andreessen. "The bad big companies are overstaffed by 4x or more." Those that prioritised revenue growth without margin expansion have had to pare costs.
But while the rest of the sector imposes redundancies, Big Tech's belt-tightening simply restricts new hires. Judging from recruitment sites, competition for workers remains high. Something has to give soon, and that will be their profits.
---