Good morning and welcome to Europe Express, coming to you from blooming Washington this week — where the FT's first stateside Weekend Festival will take place on Saturday.
The EU is inching closer towards sanctions on Russia's oil exports, with German officials telling the Financial Times that Berlin still needs a few months to get everything ready. Other capitals, notably Budapest and Bratislava, are still reluctant to endorse the plans, which are expected to be finalised tomorrow and put to EU ambassadors on Wednesday.
With EU energy ministers gathering in Brussels today to discuss issues surrounding the other Russian fossil fuel imports — natural gas — after Russia cut off Poland and Bulgaria's supplies, we'll bring you the latest on where things stand and what the central European arguments are.
Later this month, a second round of the EU-US Trade and Technology Council will take place in Paris — and we got our hands on the draft conclusions, which see an impetus for faster and deeper transatlantic co-operation prompted by Russia's war in Ukraine.
Crude truths
Do you know your Druzhba from your Adria, and can you tell a barrel of Urals blend from Brent? As EU officials are finding out this week, not all oil is created equal, write Henry Foy in Brussels and Marton Dunai in Budapest.
That the EU wants to reduce the amount of cash it hands over each day to Vladimir Putin in exchange for his oil is no secret. The problem is how to make it happen: member state ambassadors and European Commission officials will spend most of their waking hours this week wrestling with that issue.
Some countries — including Germany — think the best way forward is a tapered embargo, a countdown timer that gives countries enough warning to find alternative supplies until shipments are banned. Others think some form of price cap mechanism that limits the Kremlin's income is a better strategy: an idea publicly endorsed by Rome.
But finding an agreement that will pass muster with all 27 members is not going to be easy. And Hungary, long criticised by more hawkish members as too pro-Russian, has more than just its prime minister's ties with Putin giving it second thoughts.
Hungary, along with some other eastern EU states, has built its oil infrastructure around piped Russian crude — namely, Russia's trademark Urals blend, shipped in from the edge of Siberia along the Druzhba pipeline.
Just like fuel for your car, crude types matter: you cannot just chop and change what gets pumped into a refinery — and changing refinery specifications costs time and money. Most refineries have less than a week of crude reserves at hand.
Hungary also lies on the Adria pipeline, which carries crude from the Croatian coast to south-east European markets. But even assuming the long underinvested route could be upgraded to cope with the higher demand, Budapest would still need to find a suitable blend from another producer to replace its missing Russian supplies.
That is less of an issue for most western EU states who have alternative refineries tailored to US, North Sea or Middle Eastern crude types, or have more flexibility with seaports to find alternatives.
As with most EU stand-offs, there is a potential solution: money.
Even since before the invasion, in those halcyon days when officials discussed what actions merely might have to be necessary should Russia actually attack Ukraine, the idea of solidarity payments — or balancing out the costs incurred by EU members as a result of sanctions imposed on Russia — has been mooted.
Now that the time of hypotheticals has passed and the reality of war is here, this week may be the first real example of that concept being firmly put to the test.
C for China
Russia's attack on Ukraine has given fresh impetus to the US-EU Trade and Technology Council, which meets for the second time on May 15-16, in Paris, write Andy Bounds and Javier Espinoza in Brussels.
The body, originally set up to deal with the rise of China, aims to harmonise regulations to ensure the west sets global rules in areas such as artificial intelligence, data and labour standards.
As one diplomat put it, the C in TTC doesn't formally stand for China, "but maybe it should".
The TTC features European commissioners Margrethe Vestager, Valdis Dombrovskis and Thierry Breton with secretary of state Antony Blinken, secretary of commerce Gina Raimondo and trade representative Katherine Tai on the US side.
A lengthy draft statement seen by Europe Express contains lots of pledges to work together but few concrete achievements.
However, it does include a commitment not to take legal action against support schemes for green technology and to avoid "subsidy races" in the semiconductor industry as the US and EU attract chip factories to reduce reliance on Chinese production.
The two sides will also provide early warning of chip supply problems and collaborate rather than compete on sourcing rare raw materials.
Cecilia Bonefeld-Dahl, director-general of DigitalEurope, which represents the tech industry, has just returned from Washington and said the level of engagement from policymakers was "impressive".
"The US administration and many members of Congress are really on board. They are really enthusiastic about it.
"The Russian attack on Ukraine is a real game changer on many things but especially cyber security and AI. We need systems that are interoperable if we are to defend ourselves."
EU and US counterparts are also working on a joint crisis mechanism for co-operation on exchanging information where digital plays a prominent role in light of the threat from "foreign information manipulation and interference" and the threats to silence "independent voices".
As part of the concerted efforts, the two sides are considering:
the monitoring of information manipulation (including disinformation, propaganda, government controlled media) and the role of online platforms for its spread, amplification and mitigation

the role of online platforms as part of efforts to increase digital security of Ukrainians and other targeted groups (including access to quality media covering Ukraine)

mapping of practical instruments for rapid deployment in crisis situations, including funding, digital and support services.
The draft adds: "We will look ahead to the actions necessary to address future digital threats around the globe, that are resulting from, or inspired by, Russia's unlawful aggression. In the event of future crises, when the EU-US crisis protocol is triggered, it could be broadened to include also other partners."
Chart du jour: Sharing costs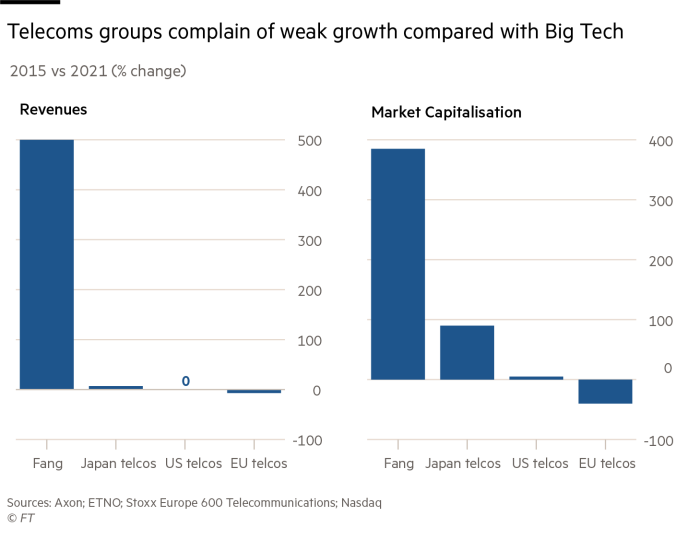 Telecoms companies have been embroiled in a long debate with regulators about whether big tech companies, which use up a significant portion of network data, should be made to pay for some of the billions being spent on 5G and full fibre rollout. A new industry report says the EU should make Big Tech and streaming companies pay at least some of the estimated €28bn they cost European telecoms groups.
What to watch today
EU energy ministers hold emergency council on Ukraine war fallout, gas payments to Russia

European parliament holds its plenary session in Strasbourg
. . . and later this week
EU finance ministers tune in virtually for a council to approve the national recovery plans of Bulgaria and Sweden tomorrow

EU oil embargo proposal to be discussed by ambassadors on Wednesday

Italian Prime Minister Mario Draghi speaks in the European parliament on Wednesday

FT Weekend Festival in Washington and online on Saturday
Notable, Quotable
---