Hi everyone, James here signing off from #techAsia with another bumper crop of stories this week. It has been such a privilege to edit this newsletter over the past three years. Mercedes, Kenji, Ken, Nian and I — as well as countless other terrific colleagues at the FT and Nikkei Asia — have combined to bring you the crucial developments in the unbelievably vibrant world of Asian tech. I may be biased, but I think that if you are looking for one arena in which to see the world's future take shape, then it would have to be Asian tech. To stay tuned, please sign up as per the note below. Thanks so much for reading and take care.
From April 1st, the #techAsia newsletter will be sent by our partner Nikkei. To continue receiving it for free, you will need to sign up here. When you sign up, you can also sign up for three months of free access to all articles on Nikkei Asia.
We would like to thank you for your interest in #techAsia since its launch in 2019. We hope you will continue with us during the next exciting phase of our journey.
The Big Story — Exclusive
The Ukraine war and inflation are exacting a heavy toll on Asian tech. Apple plans to make about 20 per cent fewer iPhone SEs next quarter than originally planned and the US tech giant also reduced orders for its AirPods earphones, according to this exclusive in Nikkei Asia.
Toyota Motor, in another example, is predicting a sharp rise in its costs of producing a vehicle.
Key developments: Apple's supply chain, which is centred on China, is being hammered. The company launched the iPhone SE as its first 5G-capable budget phone less than three weeks ago, but is now telling multiple suppliers that it aims to lower production orders by about 2mn to 3mn units for the quarter, citing weaker-than-expected demand.
The US tech giant has also reduced orders for its AirPods earphones by more than 10mn for all of 2022, as the company predicted lukewarm demand and sought to reduce inventories.
Russia's invasion of Ukraine has also driven up the prices of battery materials, such as nickel and lithium, forcing Tesla and other electric vehicle makers to raise prices (see Smart data).
Upshot: The trend of rising input prices for critical technologies, exacerbated by the Ukraine war, is one to watch. Depending on how long the conflict continues and how global demand responds, the stresses evident could get worse.
Nian's top 10
Our take
In the new Tech Tonic podcast, I spoke with Xiaoxing Xi, a professor at Temple University in Philadelphia. He recalled the moment he was arrested in the middle of the night by the FBI on suspicion of spying. A loud banging at his front door was followed by agents barging into his apartment.
"What is important for them is to catch Chinese because they think all these Chinese scientists, professors and students are spies for China," Xi told the Financial Times.
He faced an 80-year jail sentence and millions of dollars in fines. He was suspended from his job and labelled a potential spy across social media and in newspapers. But then, just as suddenly as the charges had been brought against him, they were dropped.
The case is far from a one-off. The MIT Technology Review maintains a list of more than 160 such cases under investigation.
There is plenty of evidence that Chinese industrial espionage in the US is real. Many cases result in convictions. In one high-profile case in 2016, a Chinese businessman was sentenced to three years in prison for conspiring to steal designs for cutting-edge military aircraft, including the F-22 fighter jet.
But for every real spy uncovered, there are also cases of innocent people accused. Xi is clear about what is at stake. "I think it is very clear this country is moving towards the direction where there will be zero academic or scientific exchanges with China," he said.
— James
Smart data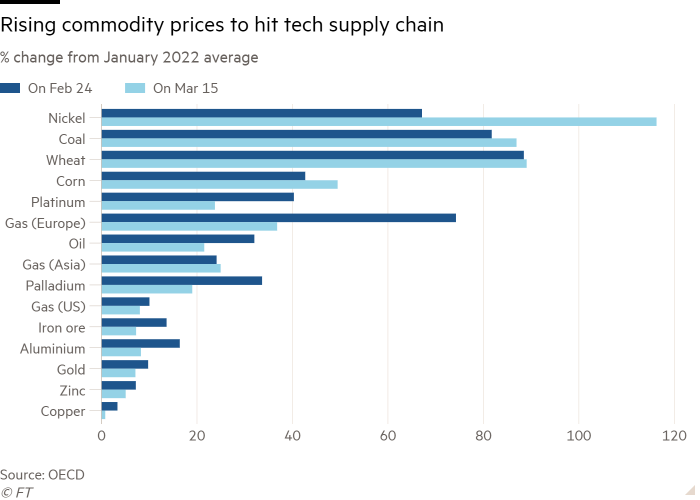 The damage to supply chains from the war in Ukraine and other adverse economic trends is mounting. Much of it is evident in rising raw material costs — some of which are shown in the chart above.
For Toyota Motor, for instance, it may result in an estimated extra $520 of costs per vehicle, writes Rurika Imahashi in Nikkei Asia. Multiplied by the 10mn cars that Toyota plans to make this year, and the hit is a hefty one.
Spotlight
Sarah Al Amiri, the 35-year-old chair of the United Arab Emirates Space Agency, developed a softly American accent attending an international school. She focused on maths and computer science in her studies, a passion that led her to head the UAE space programme.
Her first mission was to send a satellite called Hope into orbit around Mars, a giant leap for a country with no tradition and little expertise in space science and technology. Hope has been observing Mars and analysing its atmosphere for more than a year, winning praise from the international scientific community.
The achievement, a "$200mn gamble", as Al Amiri called it, was made possible by drawing extensively on the expertise of international partners as well as setting up an apprenticeship programme to develop scientific talents.
Al Amiri compared the ripple effect of the mission's success to that of the US moon landings, hoping it could enthuse young Emiratis about science and drive STEM [science, technology, engineering and maths] education in the long run.
Art of the deal
SoftBank is finalising loans worth as much as $10bn from banks ahead of a planned blockbuster initial public offering of UK chip designer Arm Holdings.
The loans, which will be secured against Arm, were a precondition set by SoftBank for banks to participate in the stock offering, according to people close to the situation. The IPO is set to take place before the end of March next year.
Goldman Sachs, JPMorgan Chase and Japan's Mizuho Financial Group are poised to have leading roles in the offering, these people said. A handful of other banks are also in discussions with SoftBank about working on the listing.
SoftBank founder Masayoshi Son is pushing for a valuation of Arm of at least $50bn. But bankers involved in the talks told the FT that a significantly higher valuation for Arm would be "very ambitious", given market conditions.
SoftBank declined to comment.
---