SoftBank founder and chair Masayoshi Son is the master of the endearing turn of phrase, as well as being pretty good at his day job of visionary investor.
"Peaches and chestnuts take three years and persimmons take eight years, even fruit takes that long," he said, recalling a Japanese proverb for investors at the tech conglomerate's annual meeting on Friday. "I'm confident if you wait five to 10 years, there will be something delicious."
He was referring to the need to take the long view after the hit to the company's investments and share priced over the past year.
"I'm still full of enthusiasm, confidence and dreams," he added. "It's only my hair that's in retreat."
The 64-year-old billionaire also reported that the group had "received a strong love call" from the British government, entreating SoftBank to list Arm in London, after the breakdown of its deal to sell the Cambridge-based chip designer to Nvidia. While nothing had been decided, "Nasdaq is the favourite", he said.
That may lead to tougher love from the UK. Helen Thomas comments that by threatening to use new national security legislation to twist SoftBank's Arm, the government is politicising the takeover vetting system and doing it in an area where it doesn't obviously have jurisdiction. It would be a stretch to use the National Security and Investment Act, which came into force in January, to scrutinise the listing of a Japanese-owned business on a US exchange, she says.
Another stretch might be SoftBank's valuation of Arm. It bought it for $32bn in 2016 when it was listed in London and has targeted a valuation of $50bn in an initial public offering. That's below the $66bn Nvidia would have paid, but is ambitious given the change in sentiment towards tech stocks.
It is much more likely to get close to that figure by listing in New York, where tech companies are more highly prized, than in London. Rating agency Moody's says SoftBank faces "execution risk in the timing and valuation" of the listing and tech analyst Richard Windsor says the numbers don't add up.
"To achieve a $50bn valuation, investors would need to swallow a valuation of 2021 18.5x [Enterprise Value]/sales, which with 30 per cent [year-on-year] growth in 2022 would still be a demanding 14.3x EV/sales," he said in a note.
"This is going to be extremely challenging as some of the highest-flying, highest-growth businesses . . . are now trading on around 10x 2022 EV/sales."
To which Masayoshi Son might reply: you must look at Arm as a peach or persimmon, it will blossom and grow into SoftBank's valuation.
The Internet of (Five) Things
1. Fintechs face a reckoning
After a record amount of investment was poured into fintech companies in 2021, the sector is having to come to terms with a world where expansion can no longer be fuelled by cheap money and business models must be proved by profits. "You are in panic mode if your runway is less than a year," Erik Podzuweit of German investment app Scalable Capital says in this analysis.
2. Ximalaya fails to scale IPO peak
Chinese podcasting platform Ximalaya has suspended plans for a Hong Kong listing after its attempt to raise up to $100mn was rebuffed by investors. Despite its sharply downsized fundraising target of between $50mn and $100mn, the Spotify-like platform — which is backed by Chinese tech groups Tencent, Xiaomi and Baidu as well as Sony Music Entertainment — was undersubscribed.
3. News notification: you have too many notifications
Most of us have too many notifications enabled on our smartphones, writes Undercover Economist Tim Harford. "Notification is a dishonest euphemism, anyway. The correct word is 'interruption' because it prompts the right question: how often do I want my phone to interrupt me?" Alphaville has an opinion on the SEC's concerns that bankers are conducting business with unauthorised communication tools, such as iMessage or WhatsApp, from personal devices.
4. Summer tech books and inside the world of porn
Creating iconic products, data privacy, the history of venture capital, tech ethics and a philosopher on virtual worlds feature in John Thornhill's round-up of summer tech reads. Patricia Nilsson and Alex Barker write in FT Magazine about their podcast investigation into the world of online porn.
5. Online scams and The Undeclared War
Online fraudsters are using the cost of living crisis to expand their scams, with a sharp rise in energy-related schemes that exploit Britons' desire to save money on electricity and gas bills, according to analysis of official data. On another level, British director Peter Kosminsky talks to the FT about his new spy drama The Undeclared War, a cautionary tale about a world beset by cyber warfare, seen through the eyes of a brilliant young coder called Saara.
Tech tools — Design for ageing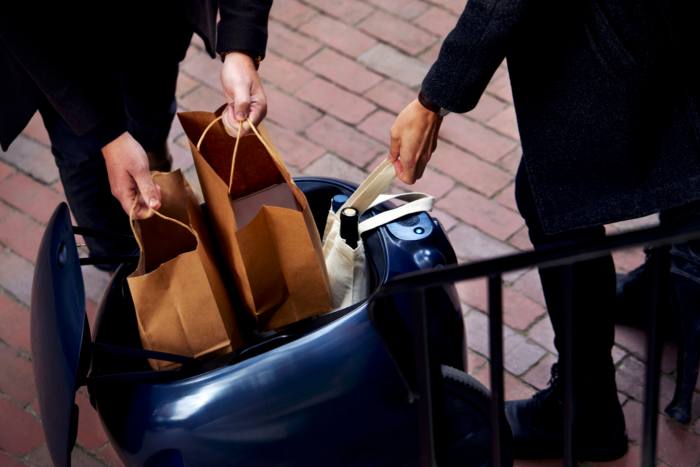 Gita is a cargo-carrying robot developed by Piaggio, creators of the Vespa scooter. It features in The Future of Ageing display, opening at London's Design Museum next month and curated by Design Age Institute. Gita will follow you around while you shop and costs $1,850 for the mini or $2,950 for the 40lb model. The exhibition features other mobility aids, including the Centaur (£6,225) — a self-balancing, two-wheeled personal electric vehicle for people with difficulties getting around, developed by Centaur Robotics.
---