India has banned exports of wheat, in a move that is likely to push food prices higher and fuel hunger in poor countries that depend on imports of the commodity.
The Indian government said that it was implementing a ban on overseas sales "in order to manage the overall food security of the country and to support the needs of the neighbouring and other vulnerable countries".
However, it said that it would still allow exports for which letters of credit had already been issued and it would consider sales to countries looking to meet their food security needs.
The announcement, one of latest protectionist measures taken by food exporting countries following this year's surge in prices, follows denials by Indian government officials that they would stop wheat exports.
India had been filling the export supply gap in the international wheat markets left by Ukraine after the Russian invasion, but concerns had heightened about export restrictions amid a heatwave which has hit the country since March.
The U-turn came after Indian government data this week showed domestic inflation surging to the highest level in eight years, with rising food prices alarming policymakers.
Traders predicted chaotic trading on the international wheat markets when they open at the start of next week as the ban would be a blow to buyers looking for wheat supplies. "It's an absolute bombshell," said Swithun Still, a grain trader based in Switzerland. "There will be panic on the wheat futures markets when they open," he added.
One of the world's largest wheat producers, India had a bumper harvest last year while some other key exporters including Canada and Argentina suffered from bad weather.
India's wheat exports rose to a record high of more than 7mn tonnes in the year ended March as war all but halted exports from Ukraine.
But searing heat in March and April, where temperatures of up to 45C hit large parts of India's wheat belt, have heightened concerns about the country's domestic supply. With several more weeks of heat expected before the onset of the annual monsoon next month, the government recently downgraded its forecast for the current crop by 5 per cent to 105mn tonnes for the year to June.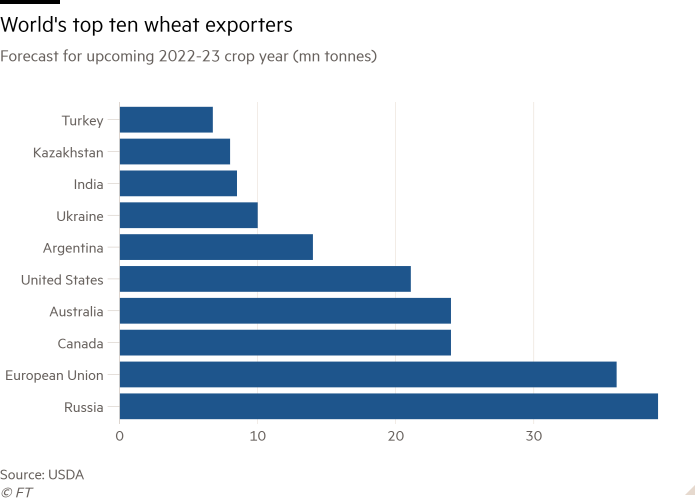 Wheat prices are at eye-watering levels due to supply concerns caused by the Ukraine war and droughts around the world. The US Department of Agriculture forecast that global supplies for the coming crop year would fall for the first time in four years. "The USDA made it clear that we are heading towards a global food crisis," said Carlos Mera, analyst at Rabobank. "The coming 12 months will be very challenging."
Wheat futures in Chicago, the international benchmark, closed at $11.6725 a bushel, up 50 per cent from the start of the year while the European wheat futures market was at €410.75 a tonne, just shy of its record high in March.
India's consumer price index for April rose 7.8 per cent from a year earlier, according to data released on Thursday, the highest since 2014.
Concerns about the rapid increase in prices prompted the Reserve Bank of India to raise interest rates unexpectedly this month for the first time in four years.
---