Last week's wobble, for what was supposed to be the most secure section of the twilight zone of cryptocurrencies, is a cause of angst for investors and serious reflection for regulators.
The biggest stablecoin, tether, briefly broke its one-to-one link with the US dollar, while our weekend Big Read describes the demise of the cryptocurrency luna as the value of its sister token terraUSD fell to zero, despite being designed to track the dollar.
Luna's failure was "one of the greatest catastrophes crypto has ever seen," according to Ran Neuner, a prominent crypto trader and outspoken enthusiast for the tokens.
"Terra was like putting your cash in an Iranian bank that offered a 20 per cent interest rate then suddenly shut its doors," says Andrew Beer, managing member at US investment firm Dynamic Beta.
Tether differs from terra. Rather than being based on an algorithm, its operators say its dollar peg is maintained through dollar-based reserves — enough to match the tokens in circulation.
However, the FT's editorial board is concerned about persistent questions over whether Tether's assets really do fully back its coins, and about related fines from two US watchdogs. Stablecoins can prompt banklike runs yet enjoy the scant regulation of the cryptosphere, it says. Real-world rules are needed.
Traditional banks are still determined to get involved in crypto. Nomura, Japan's biggest investment bank, will combine a number of digital asset services under a single wholly-owned subsidiary that will have a staff of about 100 by 2024, reports our Tokyo team.
However, Sam Bankman-Fried, founder of the digital asset exchange FTX, says bitcoin has no future as a payments network, but could become "an asset, a commodity and a store of value" akin to gold.
The influential executive, also the subject of our Lunch with the FT this weekend, says bitcoin has high environmental costs and its validation systems are not capable of scaling up to cope with the millions of transactions that would be needed to make it an effective means of payment.
The Internet of (Five) Things
​​​​​​​1. Is Elon Musk too big to regulate?
Many on Wall Street saw Elon Musk's tweet on Friday announcing he was putting his purchase of Twitter "temporarily on hold" as a way of softening up Twitter's management to negotiate a lower offer. But legal experts said it was another example of the Tesla chief executive flouting securities regulation, leaving him open to the SEC's nuclear option.
2. Uber adds charabancs to app
Uber announced on Monday a partnership that will allow its users to charter private buses and coaches through its app, furthering its expansion into different modes of transport beyond its core ride-share business.
3. Advertisers are upfront about Netflix's appeal
Netflix's decision to work on a cheaper ad-supported streaming service has come too late for this year's "upfronts" in New York, where TV executives make their annual programming pitch to advertisers. Netflix viewers are being seen as a great untapped audience, reports our US media team.
4. Emirates takes Vodafone stake
Emirates Telecommunications Group has acquired a 9.8 per cent stake in Vodafone for around $4.4bn as it kick-starts its latest expansion into international markets. Lex says these are much easier people for a chief executive to have on board than pesky activist Cevian Capital, which has been using a small exposure to Vodafone to push for disposals, consolidation and localisation of operations.
5. Tech groups cut jobs and risk
Tech companies are reacting to the sector falling out of favour with investors by tackling the basics — cutting jobs and costs, reducing cash burn and focusing on the fundamentals. Even Meta has pulled the handbrake on its aggressive headcount growth.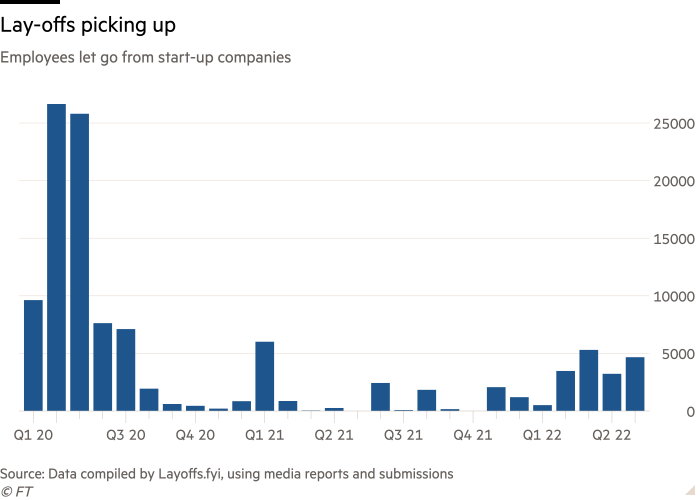 Tech week ahead
Monday: Take-Two Interactive, the games publisher behind the Grand Theft Auto series, and online news service BuzzFeed are set to report earnings after the closing bell.
Tuesday: China's JD.com and the UK's Vodafone report results.
Wednesday: Network equipment maker Cisco and China's Tencent announce earnings.
Thursday: Chinese consumer electronics company Xiaomi and south-east Asia superapp Grab report results.
Friday: Chinese electric vehicle maker Nio makes its debut on the Singapore Exchange, after the company was added to the US list of entities facing possible expulsion from its stock exchanges earlier this month.
Tech tools — Electric chopsticks
Homei Miyashita, a professor in the School of Science and Technology at Meiji University in Japan, has a theatrical flair for boffinry, writes Leo Lewis.
In December, he unveiled a lickable TV screen that purports to deliver imitations of complex flavours. Now he has come up with electric chopsticks, designed to reduce the amount of salt that Japanese people consume.
The chopsticks are designed so the tongue tastes more of the salt already in the food. The lower of the two chopsticks, as held in the hand, is attached to a battery currently worn on the wrist in this prototype.
Its job is to deliver an extremely mild, computer-controlled electrical current when a circuit is completed by the lips, tongue and the food itself. The current affects the sodium chloride ions in a way that makes the food taste roughly one and a half times saltier than it really is, allowing the actual salt content to be significantly reduced.
---