Fracking companies have warned that Liz Truss's lifting of a moratorium on the controversial method of shale gas extraction will not resurrect the industry in England without rapid reform of planning and seismicity rules.
The new UK prime minister on Thursday ended a ban on fracking in England that has been in place since 2019, as part of wide-ranging reforms to bolster Britain's domestic energy supplies and address soaring bills for households and businesses.
Truss claimed the decision "could get gas flowing in as soon as six months", although she acknowledged that the resumption of fracking in England would also be dependent on "where there is local support for it".
While fracking companies, including Australian-owned Cuadrilla and Britain's largest privately owned company Ineos, welcomed the reversal, industry insiders warned that other rules would also need to be tackled if the government wants to kick-start production.
Ross Glover, development director at Aim-listed fracking company IGas Energy, told the Financial Times that streamlining rules around planning and permitting would be crucial.
"Development of any form of infrastructure" in the UK faces a lengthy planning and permitting process, Glover argued. "We are not saying get rid of all the regulation, what we are saying is we need to have a proper discussion about how we accelerate the projects."
IGas shares have surged more than 650 per cent this year, partly on the back of investor anticipation of a reversal of the fracking moratorium.
Shale gas companies have also long called for a review of seismicity regulations, known as the "traffic light system", that require an immediate halt to work if fracking triggers earth tremors of magnitude 0.5 or above.
Charles McAllister, director of policy at UKOOG, a trade body that represents frackers, warned that if the industry does "not get the comprehensive policy support required, then some of the companies may not progress" their shale projects.
UKOOG is asking for the fracking industry to be subject to the same standards on surface vibrations that apply to other industries.
"We are asking to be treated fairly in terms of . . . earthquake regulations. We would want to be treated in line with construction, geothermal, quarrying and [the] coal mining industry," McAllister said. "Our view is, the industry has been demonised in the context of wider regulation on seismicity and surface vibration."
Brian Mullin, head of planning consultancy Marrons Planning, suggested community consent may also need to be removed from fracking consenting processes "as it demonstrably amounts to a moratorium for delivery".
Ineos, which has offered to drill a shale gas test well to prove to the government that "we can do [fracking] safely and without harm to the environment", has raised the prospect of payments to local communities to gain support.
"We have promised to invest the first 6 per cent of the value of the gas back into the local communities," Ineos director Tom Crotty said on Thursday.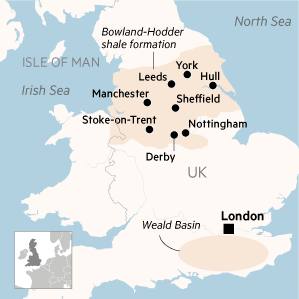 Hydraulic fracturing, or fracking, involves pumping water, sand and chemicals under the ground at high pressure to release gas from rock formations. It has transformed the US energy sector, but some leading academics have long argued Britain's geology is ill suited to the process, even if community consent in such a densely populated country could be achieved.
"[The] geological history of the UK is complicated," said Stuart Haszeldine, professor at the school of geosciences at the University of Edinburgh.
Truss's energy reforms are also aimed at unleashing a new wave of exploration among UK North Sea companies, although sceptics argue that any increase in the region's output is likely to have a minimal impact on sky-high oil and gas prices.
Truss will greenlight the first oil and gas licensing round since 2019-20 as the government seeks to arrest declines in UK oil and gas production.
The UK's annual North Sea oil and gas output dropped 17 per cent last year. Although gas production has improved 27 per cent year on year in the first half of 2022, energy companies have cautioned that the reversal will prove "shortlived" unless there is a new wave of investment.
The new permits will be for mature areas of the UK North Sea, meaning any companies that successfully drill new wells can take advantage of existing infrastructure rather than installing costly new pipelines.
The UK oil and gas regulator, the North Sea Transition Authority, will prioritise an initial package of fast-track licences that contain existing discoveries, which companies could potentially exploit in less than a year, although the remaining permits could take between five and 10 years to yield any production.
Officials are also seeking to accelerate projects that are already in the development stages so they can reach production faster.
The government is particularly keen for Equinor to progress its Rosebank oil and gasfield 130 kilometres off the cost of the Shetland Islands, according to people familiar with officials' thinking.
Rosebank is among the largest in a pipeline of projects slated to receive government and company approval in 2022 and 2023. Another of the biggest, Shell's Jackdaw gas scheme, received a green light in June.
Equinor has so far said it will take a final investment decision on Rosebank in 2023.
Yvonne Telford, senior analyst for north-west Europe at the consultancy Westwood Global Energy Group, said exploration and production companies did have the "appetite" to proceed with developments.
But she warned that "production volumes from the larger developments such as Shell's Jackdaw and Equinor's Rosebank fields will not be seen until 2026 and 2027".
---